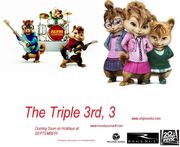 If the original creators want to use this story, you may.
Yes! please original creators using this stoey, yes!. legendary whole cast to mediamass
Alvin and the Chipmunks: The Triple is a another Squeakquel ("Sequel"), the release was changed fom December to September, It was produced by Regency Enterprises, Bagdasarian Productions and Walden Media and distributed by 20th Century Fox.
Chipmunks and Chipettes become Adults, Alvin, Simon, and Theodore sing a song, 'I Glad You Came' on recording, and they are married to the The Chipettes,In The First of Passday of Marrige The Chipettes get pregnant, Theodore said "Not to say, It time for a Future Chipmunk." Alvin and Theodore Celebrating a Party for Future Chipmunk Child was Invited with Aunt Jackie, Toby Seville and lots of other guests, Simon came To Wish to get a Baby Chipmunk. When Chipmunks finish the song, 'I Like It', The Chipettes Need to go to a Labor. Dave takes the Chipmunks and Chipettes to the Birthing Center with Toby, Aunt Jackie, Other Guests and Dr. Gracie (Sigourney Weaver), delivered the babies for help Chipette birth. The Chipettes gave birth to baby chipmunks called "The Puppies" for an ongoing time.They come out first is Alvin's oldest son, Alexander, also know as Alex (who was wearing a diaper and a Baseball hat that said 'rap') who like his sisters, Sally and Olivia, and other Chipmunks puppies and Chipettes puppies singing 'Laughing'n Fun', The Chipmunks and The Chipettes is so Happy, Alvin said "It a Lot a Puppies". The puppies start crying and don't seem to stop and the Chipmunks don't know about it. 5 weeks later, Theodore tries to make them happy and he slipped into a rubbish bin and pencils fall into Theodore's mouth and a television falls on Theodore in the bin but he is still alive. The Puppies laugh at Theodore, and stopped crying. He then starts acting funny, telling jokes and tickling the Puppies, making them laugh, and eventually they learned to sing. Ian Hawke attempts to kidnap the puppies by putting them in a cardboard box and the Chipmunks must save them and stop Hawke. At the end, Alvin and the Chipmunks, along with the Chipettes and the Puppies are going be in concert at Hollywood Bowl.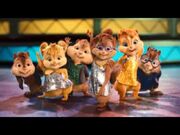 Release Date
Edit
on over only months is September
USA, September 2
UK, September 4
Denmark, September 5
France, September 6
New Zealand, September 7
Australia, September 8
International September 9-30
Movie Trailer
Edit
See on Youtube this. [1]
Transcript
Edit
Community content is available under
CC-BY-SA
unless otherwise noted.