UNDER CONSTRUCTION!!!
[[Image:|258px]]
Charlene Wilson
Background information
Feature films
Television programs
Video games
Park attractions
Portrayed by
Portrayed by
Animators
Voice
Janice Karman (80s Series, Chipwrecked (un-credited)

Brendon Urie (The Road Chip) Michael Bagdasarian (2015 series)

Performance model
Designer
Inspiration
Honors and awards
Character information
Full name
Charlene (Unknown Middle Name) Wilson
Other names
Personality
Creative, greedy, ambitious
Appearance
Brown hair held back by an orange headband, Usually in Orange clothing
Birthday
Occupation
None in particular, thought Charlene calls herself a business woman at times.
Alignment
Affiliations
Goal
Home
Unknown
Relatives
Unknown parents and siblings, considers Matthew her brother.
Pets
Allies
Matthew, Uncle Harry
Minions
Enemies
Alvin, Simon, Theodore, The Chipettes, Ian Hawke
Likes
Dislikes
Powers and abilities
Weapons
Fate
Quote
"This a good lesson for you Theodore; life is full of disappointments." — 2015 Series.
[Source]
Charlene Wilson is a female chipmunk and an antagonist of the series. Her main color is orange and she is most known for her greediness in the shows. She constantly gets in the Chipmunks way to pursue her own goals. It's unknown what her surname is in the films, or if she even has one.
80s Series
Edit
CGI Films
Edit
CGI Series
Edit
Appearance
Edit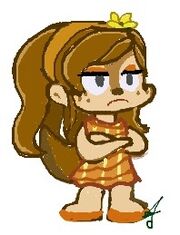 In all incarnations, Charlene has brown hair and mainly wears orange.
In the 80s Series, she wears an orange headband with an orange bow on top, though later in the series it's replaced with a lily. Her hair is quite long and reaches her mid-back. She has fluffy bangs and fluffy hair. Her eyes are grey-green and her lipstick is light pink. She also happens to wear lavender eyeshadow. In terms of height, Charlene is taller than Brittany, but shorter than Jeanette.
In the films, her fur is light brown and her hair is much shorter, reaching her shoulders. Charlene is now taller than Eleanor, but shorter than Brittany. Her eyes are round and light brown. There also appears to be spots on her fur, resembling freckles. She sill wears an orange headband, but instead of a bow, there is now a daisy. In the Road Chip, she gains clothes which consists of a orange dress with yellow polkadots. She also wears periwinkle (occasionally orange) eyeshadow and light pink blush.
In the CGI series, Charlene's hair reaches her mid-back and is slightly wavy. Her headband has a small yellow flower on it. Her eyes are oval-shaped and her eye color is light gray. She also wears orange eyeshadow, scarlet lipstick, and has brown freckles on her cheeks. Like her 80s Series counterpart, she is taller than Brittany, but shorter than Jeanette. Charlene wears an orange dress with red and yellow striped patterns and a red belt with the letter "C" on it in silver. Her slippers are scarlet.
Personality
Edit
COMING SOON
Relationships
Edit
Overall, Charlene and Matthew consider each other to be siblings, despite not being related. However, depending on which show you watch, Charlene may treat him differently.
In General, Alvin and Charlene are bitter enemies.
COMING SOON
Depending on which show you watch, Charlene either view him as an enemy or potential ally.
In the 80s Series, Charlene often blackmails Theodore into doing what she wants. Occasionally, she feels remorse for treating him badly, but that guilt is usually overshadowed by her will to get what she wants.
In the Nick Series, they seem to have a friendly relationship. Despite being related to Alvin, Charlene often mothers over Theodore and gives him advice. Theodore knows Charlene does bad things, but she believes that there could be good in her.
While she and Dave have never actually talked, Charlene is very fearful of him. Whenever she sees him, she scurries away as fast as she can. Dave doesn't know much about her, but he assumes that she's one of Alvin's friends.
COMING SOON
It's unknown who her male counterpart is. It's presumed to be Matthew.
Her main color, orange, represents creativity which is a trait of her's.
Despite being female, her film and 2015 series voice actors are male. The reason for this is to keep Charlene's voice low.
Charlene has a roleplay and ask blog which can be found here: im-the-one-that-you-want.tumblr.com
Community content is available under
CC-BY-SA
unless otherwise noted.