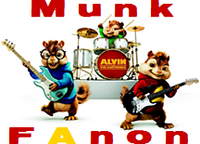 Welcome to Chipmunk Fanon Wiki! I hope you'll stay with us and make many more improvements.
Recent changes is a great first stop, because you can see what pages other people have been editing, and where you can help.
Questions? You can ask on the "discussion" page associated with each article, or post a message on my talk page!
Don't know what to do? The Community Portal has an outline of the site, and has links to pages to get you started!
Please sign in every time you edit, so that we can recognize you!
Sign your name in discussions by typing ~~~~, which automatically adds your signature and the date, so we know who's talking!
I'm really happy to have you here, and look forward to working with you! Have fun!
--Manta-bee 02:03, February 17, 2010 (UTC)
Welcome to the Munks Fanon Wikia! It'll be good to have more people editing it now. Come over and check out my Fan-fic if u have'nt yet, it's The Chipmunk Multi-Verse & don't forget to comment!
Hey Chipmunks, u still out there?
Hey guys.Sorry I've been gone for awhile.I've been very busy with school and everything,but I'm back.Oh and over some of my spare time,I think I figured how to put that story together.
Great! User:The Chipette Protector No one hurts My Chipettes! 10:43, December 6, 2010 (UTC)
Sorry, I had some 'problems' to square away. School stuff... Hope UR hand fells better and heals soon.
Yea, I had'nt checked in a while. I'll update again. I stopped checking as much during the summer when u were'nt able to come on as much. I think were getting closer, but I do want to do some more w/ it, specifically I want to have Samuel make both Simon and Jeanette go crazy again and the others have to beat them while the Darkmunks and the Dark Trinity get away, unless Julie agrees to leave w/ Samuel, then only Simon will go crazy.
Im thinking its Jake and Refia, but I do want to have something past that. It has to do with the Dark Trinity (also known as the Darkstars) and a legend about them. Also will Angel fight against Jake or still serve him? Also, I updated Oblivions a while ago. My bad, the Recent Changes didn't show it was updated, I just updated. Alright then.
I'm back! Sorry, I got busy and forgot about this for a while...
Are you still there Chipmunks? User:The Chipette Protector
Oh.Took a quiz here on Wikia. You can takle a look at my result if you'd like.
http://wikia.visualdna.com/attempts/7cddb1d0-bd27-4f0a-8e2e-4c176ced8a41/feedback
Community content is available under
CC-BY-SA
unless otherwise noted.